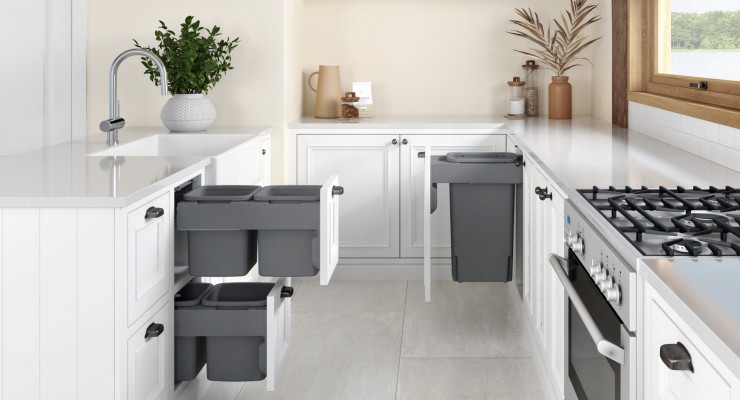 New Concelo® for 350mm Cabinets
The Concelo range by Hideaway Bins™ is recognized as one of the best hidden storage solutions on the market and was chosen by an international panel of judges as winner of the prestigious Red Dot Award. True to our values of constant innovation and improvement, we have continued to explore what is possible and are proud to announce the addition of four new models to the Concelo range which are specifically designed to suit 350mm wide cabinets. This means Concelo can be used in a wider range of kitchen and laundry designs, especially in compact spaces like townhouses and apartments.
The three new waste bin models all feature totally unique easy clean components and the Active Lid System to control odours. They will be available in both white and cinder colour options. A slim new laundry hamper model will also be added to the range in White. All are launching in July 2022.
Two ALL-NEW Bucket Sizes provide more design options
To fit Concelo into a 350mm cabinet space, Hideaway Bins have developed two brand new bucket sizes. The all-new 13 litre and 16 litre buckets provide designers with different options for functionality and design aesthetics. 
The 2 x 13 litre model has been designed to fit behind 50/50 drawer fronts. This means two units can be installed in a standard cabinet height providing a four-bin recycling solution. The 2 x 16 litre model provides more storage and allows designers the option of either a 2/3 to 1/3 or 60/40 split in drawers to match their design preference.
Large 35 Litre in Slim 350mm Cabinet
Also available is a single 35 litre bucket, providing large capacity storage in a slim 350mm cabinet space. This provides options like having a large single 35L recycling bin in conjunction with a smaller twin bin elsewhere in the kitchen for waste and composting.
New single 35 Litre Laundry hamper for smaller spaces
And finally, the new 1 x 35 Litre Concelo Laundry hamper is ideal for apartment living or small laundries. The CRL350-135D-W is available in white only.
See the seven NEW Concelo models:
The new Concelo models are available nationwide from May 2022 through Hideaway's distribution partners or direct from Hideaway Bins for retail customers.
Updates and Improvements to Existing Concelo Models
While launching the new Concelo models, Hideaway Bins have take the opportunity to introduce some subtle but important improvements to all the existing Concelo products. Click Here to learn more.