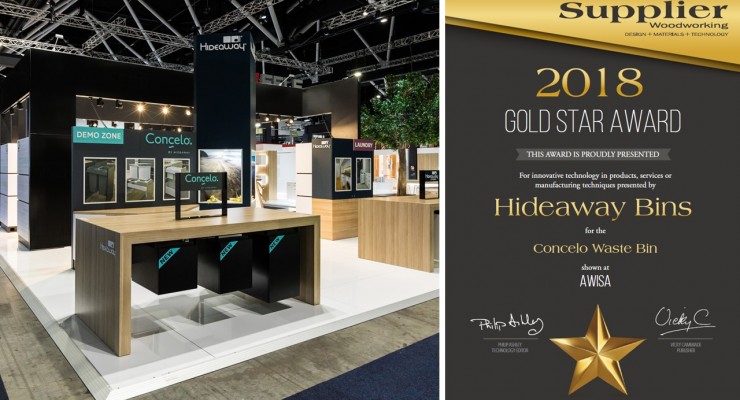 Concelo wins Gold Star Award
"Concelo is clever, smart, well-designed and is superior to every other waste system on the market; it's a significant step forward and well deserved for a Gold Star"
Judges Comments
Following its recent launch to the trade at AWISA 2018 in Sydney, Concelo has been awarded the Gold Star Award by Supplier Magazine for Innovative Technology.
AWISA is the bi-annual trade exhibition for the Australian woodworking industry, and attracts furniture manufacturers, cabinet makers, kitchen manufacturers,  architects and designers. The 2018 AWISA was the biggest ever, attracting 120 exhibitors from accross the industry.
Every AWISA, Elite Publishing (Supplier magazine) presents its Gold Star awards for products that demonstrate excellence in innovation and value to the wood and allied manufacturing sector. It could be a new product, system, process or new development in an existing technology. Products displayed at AWISA are examined by Supplier's editorial staff with up over 40 years' experience in the industry.
Of the 6 Gold Stars awarded following AWISA, Concelo was the only hardware product to receive the award. As a New Zealand family owned business, being judged alongside the best international hardware brands and receiving this award is a huge accomplishment for the team at Hideaway Bins. It recognizes the level of innovation that has been developed and engineered into the new Concelo range. 
Concelo was developed over seven years, and includes a number of patent-pending innovations which are globally unique. Concelo is manufactured by Kitchen King Ltd, and is available in New Zealand and Australia through our distribution  partners.