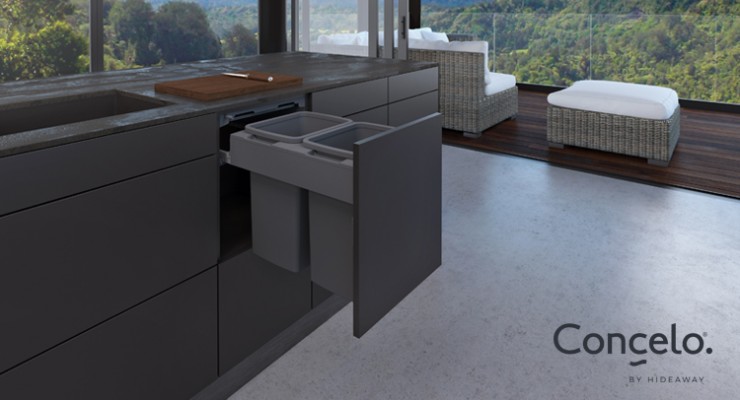 Introducing Concelo by Hideaway
Hideaway Bins is proud to announce the launch of the totally new Concelo waste bin range. Concelo has been designed to deliver a bin without compromise - it takes all the best features you would expect from a Hideaway Bin and improves them, totally redefining what you should expect from a waste bin.
7 years of Research and Development by has seen every element of the waste bin re-engineered and tested to ensure it delivers both the form and function that should be expected from a premium kitchen appliance.
Concelo by Hideaway boasts not just a clean design aesthetic that compliments premium drawers, it also helps keep your kitchen looking and smelling clean.  Managing waste can be a challenge, but Concelo is the easiest bin in the world to keep clean. Key parts of the Concelo bin unclip, including the new Clip'n'Clean* trays, and can be easily hand washed to keep them looking crisp and clean.
Concelo boasts a new Active Lid* designed to help control odours. The Active Lid is hidden from sight at the top of the bin inside the cabinet and drops down to close over the buckets when the bin is closed. When the bin is opened, the lid lifts up and away to allow an unhindered running action.
Concelo bins run on smooth synchronised runners that include a fluid damper for a seamless closing action. Like all Hideaway Bins, the runners over-extend to ensure the back bucket will come clear of the bench top.
Flexible mounting options allow Concelo to be top and or side mounted, meaning it can be mounted into any cabinet width for design flexibility. Mounting at bench height allows the most ergonomic positioning of the bin to easily dispose of waste.
Available in 2 colour options; Arctic White to match ever popular white drawers, or Cinder to suit the growing trend for darker coloured hardware. Concelo is also compatible with electronic push to open mechanisms. When combined with the Active Lid, you now have the perfect hands-free waste bin solution! There is no other bin in the world like it!
*Patent Pending